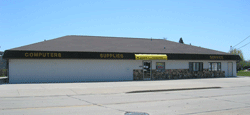 Welcome to Sauve's.com
Sauve's started as a toy store in the 1950's at another location. It changed to office supplies and equipment in the early 70's, further evolving into computer sales and support in the 80's and continuing to this day.
Things to know:
See our Services page for current services.
Check out our Contact page for various ways to get ahold of us.
We offer computer recommendations here.
We have a wide array of cables and accessories in-stock.
See our Service Rate page for typical service rates.
We no longer offer the following:
New computers for sale. Check out our buying assistance page for details.
24x7x365 Support. If your business or situation requires this, we recommend Cybertech Consulting.
We work with tablets and phones, but no longer service at the component level. Replacing internal components is no longer offered due to lack of factory support.
Contact us for more information