Table of Contents
---
Printer Considerations
Color: Not the color of the plastic. Decide if you need to print in "black and white" or color.
Display: Make sure the printer you purchase, whatever it is, has a usable touch display for easier operation.
Capacity: If high volume is needed, we recommend the paper tray holds 250 sheets or more.
Document Feeder. If high volume, multi-page scanning is needed, purchase one with a top document feeder.
Connectivity: USB and Wireless is a minimum. If possible, buy one with an ethernet connection also.
Single Sheet Feeder: Comes in handy if custom forms or colored paper is used. Can still be done without one.
Envelopes: Envelopes can be tricky for a printer. If needed, make sure the printer accomodates envelopes.
Phone and Tablet: Can you print from a phone? For iPhones users, make sure it comes with "AirPrint" capabilities.
Very Very Important: **You must run inkjet printers at least once a week or they dry out**.
More Information
Color or black and white
The most important decision is the need for color printing. If color is required, you need to decide between an inkjet or a color laser printer. For most light duty home users, inkjet is the way to go. A color laser is used by businesses or high volume users. Lasers print faster and are cheaper to operate on a per page basis, but their initial cost is higher.
The most important thing to remember when owning an inkjet printer is that a page must be run at least once a week or else the ink and/or the print heads will dry out. This may result in the need to replace the cartridges, printheads, or the entire printer. Always keep the printers plugged in and turned on. They will sleep when not in use and hopefully perform self-maintenance when needed.
Display
The display is the tiny screen on the printer that allows you to operate it see error messages. Always, always, always, whenever possible, purchase a printer with a display IF it's a multi-function. A display on a simple laser, B&W, workhorse type of printer with no scanner or fax is not needed.
The printer at the top of this article has a very usable display. This printer, on the other hand, has nothing and is miserable to work with. I do a lot of "what lights are on and what are they doing?" investigating to decipher what's going on.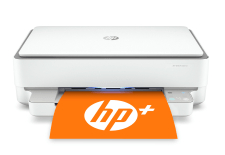 The only instance we recommend something like this is where physical size is an issue and you're moving it around. Sometimes it's the only thing available and you need something right now. Otherwise, try to get one with a usable display.
Connections
Most printers today have wireless capabilities and all have a USB connector. Full featured, office type printers have a network jack, which is the most reliable while keeping the versatility of wireless. We have found that consumer focused printers tend not to have a network jack available.
Recommended Printers
There have been major supply desruptions. Availability varies.
Specifications and prices can change daily. Always confirm before ordering.
We can assist in the ordering process. Contact Us for more information
Color Inkjet
Has a display
Full featured
Wireless / USB / Ethernet
Auto Doc Feeder
225 Sheet Capacity
AirPrint Compliant
B&W Laser
Simple, high volume
Workhorse Printer
No Display.
USB / Wireless / Ethernet
AirPrint Compliant
B&W Laser
High Volume, Office printer
NO Doc Feeder
Usable Display
USB / Wireless / Ehternet
Airprint Compliant
B&W Laser
High Volume, Office use
Doc Feeder Included
Usable Display
USB / Wireless / Ethernet
Airprint Compliant
Color Laser
High Volume, Office use
All the features
Usable Display
USB / Wireless / Ethernet
AirPrint compliant
Color Inkjet
Low Volume
No Display
Low Volume Paper Tray
Scanner Included
Cheap and portable
Contact us for more information