Table of Contents
---
Recommended Specs
First, click here for recommended and minimal requirements for any brand computer or laptop.
Additional Considerations
CD\DVD drive: Getting more rare. If one is provided, is it mounted vertically or horizontally?
CD\DVD External: If the computer has no DVD drive, USB DVD drives are available.
Camera Card Reader: Prefer a full size "SD" card reader slot. Micro cards can be read with an adapter.
USB ports: Most come with plenty of USB ports. Prefer at least one "USB-C" type port.
Video Ports: Check if the provided video ports match your current monitor. Adapters can be used if needed.
Multi-monitors: The number of video ports determines how many monitors can be attached.
Extended Warranty: Typically not needed for desktops.
Size: Will the physical size of the computer fit where you want to use it.
Color: Personal preference. Match the monitor?
Cabling: If the monitor, keyboard, mouse, or printer is more than 4-5 ft ways, longer cables may be needed.
Ventilation: The computer doesn't need much, but it does need some. Prefer the back is clear.
More Information
Physical Size
Desktops can come in pretty small sizes. Dell calls there models "Small Desktop" and their normal size "Compact Desktop" or simply "Desktop".
The primary factor determining physical size is the CD/DVD drive. The very small chassis do not come with any drive. The mid size, "small desktops" might come with a vertically mounted drive. The normal size desktops might come with a drive horizontally positioned, the same way it's been for many years.
In addition, physical size may deterine what types of video and USB connects are offered, how many, and what type. Most computers should have at least 4 USB ports in the back.
CD/DVD Drives
The DVD/CD drive is becoming rare. If necessary, external drive that connects to a USB port can used. Fewer people need a DVD/CD drive.
6/19/2022
Due to a recent, major issue with the built-in DVD drive, we are no longer recommending desktops with DVD's installed. We received no help from the vendor. It's a design problem that we resolved ourselves, but it should not have been necessary. Using an external USB drive worked without issue, which is what we are now recommending.
Build Quality
Dell, for example, has different model lines such as Inspiron, Vosto, Optiplex, etc. Inspiron is the consumer line. We recommend avoiding the Inspiron line when dealing with laptops. We find Inspiron desktop computers acceptable. Vostro is our goto model line. The same goes for any other brand. Some models are better quality than others.
A word about "All In One" Computers
"All in one" computers have the computer part and the screen combined into one device such as this: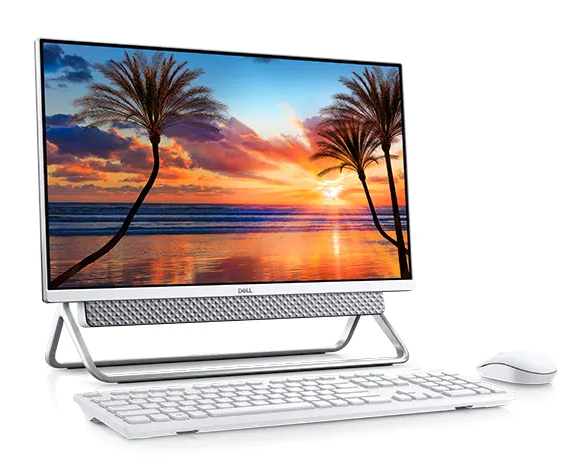 Considerations:
It's a very clean, compact design with minimal cables. At a minimum all it needs is a power cord.
Performance wise they run the same as similarily equipped desktops and laptops.
Windows functions the same as desktops and laptops.
If at all possible, a network jack along with wireless capabilities is preferred.
Make sure you check what connectors are available, including external monitors.
We recommend a 24" screen size. Larger if vision is an issue.
Most come with a built in camera and mic, but check to make sure.
Sound quality isn't much different than a standard monitor with speakers.
We are not a big fan of all in one designs. Expensive to repair, especially the screens.
Recommended Desktops
See here for recommendations and minimums.
There have been major supply desruptions. Availability varies.
Specifications and prices can change daily. Always confirm before ordering.
We can assist in the ordering process. Contact Us for more information
i5 Processor (12th Gen)
8GB RAM
256 GB SSD
Modern Connectors
Wired\Wireless
Front USB C
SD Card Slot
NO DVD Drive
HDMI/Display Port Video - NO VGA
i5 Processor (12th Gen)
12GB RAM
1 Terabyte SSD
Modern Connectors
Wired\Wireless
Front USB C
SD Card Slot
NO DVD Drive
HDMI/Display Port Video - NO VGA
i5 Processor
8GB RAM
250GB SSD
NO DVD Drive
Contact us for more information